Fall is right around the corner and along with the crisp air and changing leaves are opportunities to bond with your girl. Read on for ways to get into the spirit of Halloween, sparking both your creative sides—and perhaps igniting a new tradition or two.
Carve a bewitching pumpkin
Pumpkins and gourds are an ideal blank canvas for Halloween arts and crafts. While pumpkin carving holds infinite possibilities, sometimes simple is the way to go. Even better: match your artwork with her doll's costume for bonus coordination points, like our mysterious bats with outstretched wings or bubbling witch's cauldron.
Bubbling witch's cauldron
More pumpkin-carving tips:
• Set the tone: light a candle or put on a Halloween-themed playlist.
• Pin a stencil to the face of your pumpkin—such as one of the printables included here—to guide your carving and make the job a breeze.
• Protect work surfaces and clothing before you begin. Smocks are always a great idea.
• Gather the proper carving tools ahead of time, whether serrated or craft knives, and make sure an adult manages this step.
• Hollow out your pumpkin with a ladle or ice cream scoop, and place the insides in a container. Separate the seeds for roasting, and store the guts for baking bread, cookies, or other fall- themed recipes. Yum!
• Use Christmas lights or flameless LED tea lights to brighten the pumpkin safely.
• If you opt for an old-fashioned candle, sprinkle spices like cinnamon and nutmeg inside the lid. Let those cozy fall scents waft on the breeze as you admire your work.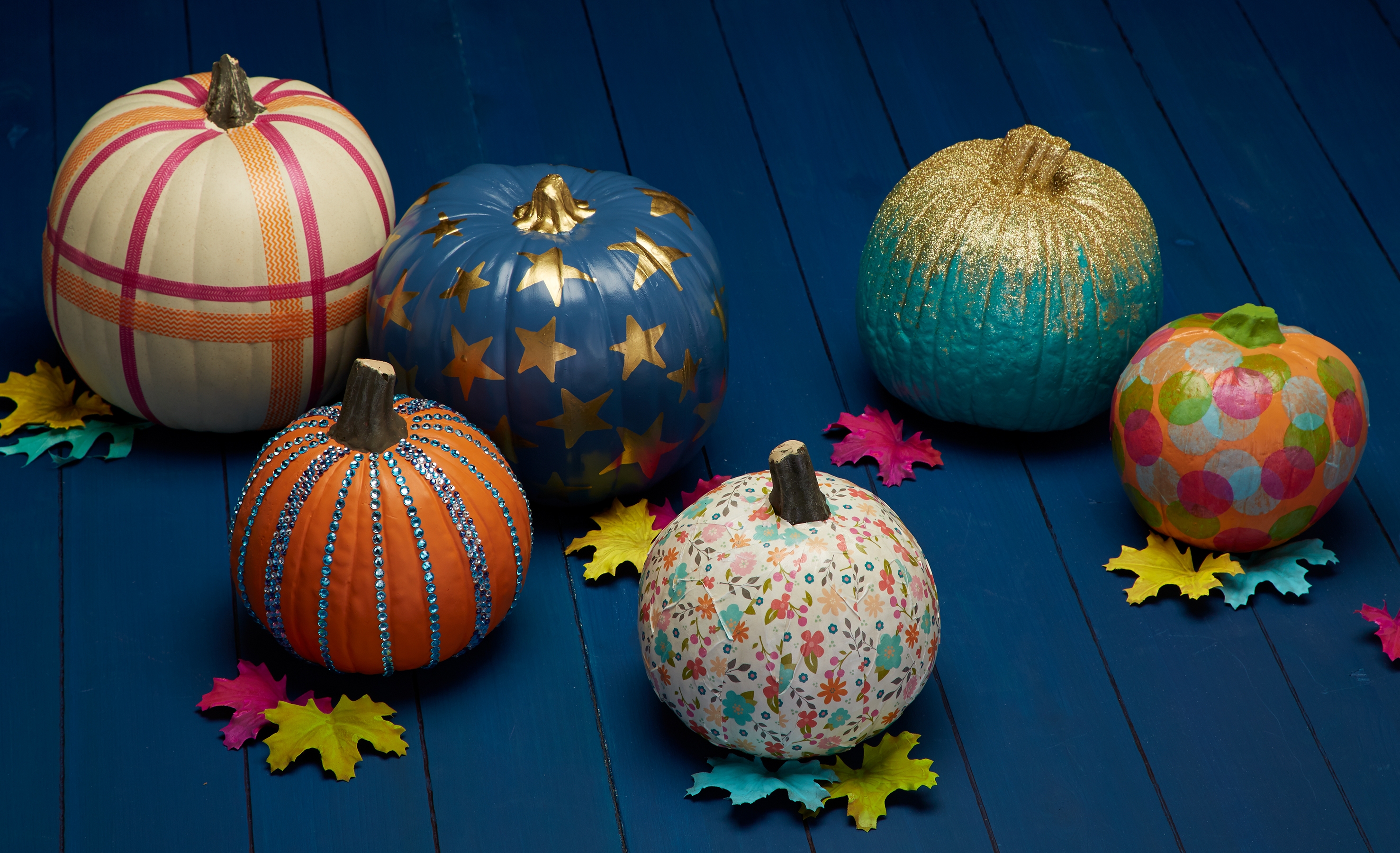 Try a no-mess pumpkin
If keeping things neat and tidy is more your vibe, or you're craving a stroll down the aisles of your local craft store, try something different this year. These whimsical designs work for both fresh and artificial pumpkins. Always use nontoxic paint and cover your work surface. Mix-and-match for eclectic styling!
Playful confetti:
Create a fun confetti effect by covering your pumpkin with colored scrapbooking brads, pressing the pointed ends into the pumpkin and scattering the dots across the surface.
Ghostly greeting:
Cloak your pumpkin with chalkboard paint (you will need 2–4 coats total; let dry fully between coats). Rub the surface with the side of a piece of chalk, wipe it off, and voilà—write a new spooky message every day!
Letter art:
Start by painting the pumpkin white with acrylic paint. Once dry, use washi tape to shape your letter. Using a foam brush, paint the pumpkin again, tape included, with any color paint you like. Let dry, then gently peel the tape to reveal the letter beneath. Display your initial, or use multiple pumpkins to spell out an eerie message.
Classic plaid:
One of our easiest suggestions? Use washi tape in at least two colors to create a festive plaid pattern. Crisscross vertical and horizontal stripes and let your creativity flow.
Midnight dreams:
Create a starry nighttime vignette by painting the pumpkin deep blue. Use a metallic paint pen to draw a smattering of stars and constellations.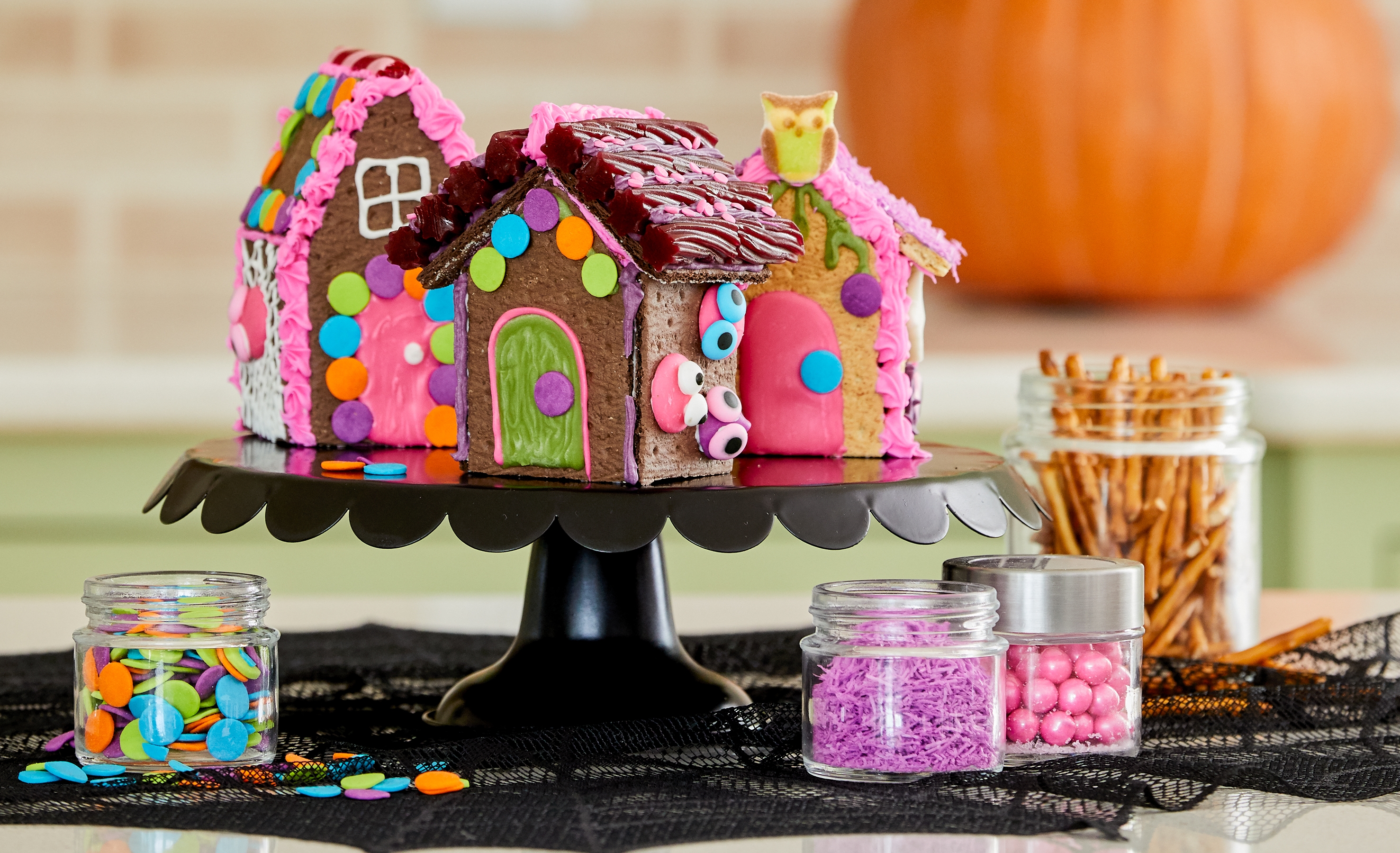 Make a candy-covered Halloween house
It's your classic gingerbread house, but make it haunted! Dig out your favorite festive recipe or use the simple ingredients below as your base, then gather candy and make it your own. The spookier, the better.

• Build your Halloween house using 1 cardboard milk carton in half-pint size, graham crackers, one 16-ounce tub of frosting, and a selection of decorations: candy, cereal, pretzels, etc. Get creative!
• Cut the ends of two whole crackers into a point for the roof, spread with frosting, and attach to the carton to create the front and back of the house.
• Use four cracker halves for the sides and roof of the house; attach with frosting.
• Place decorations onto the house with ever-more frosting. Let your imaginations run wild: Licorice becomes roof shingles. Pretzel sticks morph into a door, a stone pathway made of cereal stretching beyond and bordered by candy pumpkins. Colorful creatures prowl with candy eyes. A handwritten sign warns visitors of danger lurking ahead. The possibilities are endless.
Match her look to her doll
Put a little spook in your step with an easy, handcrafted costume pulling items you may already own. Your girl can coordinate with her doll—whether a witch, bat, or sweet candy corn-inspired costume from our brand-new Halloween collection. Grab a familiar jack-o'-lantern trick-or-treat basket to complete the look.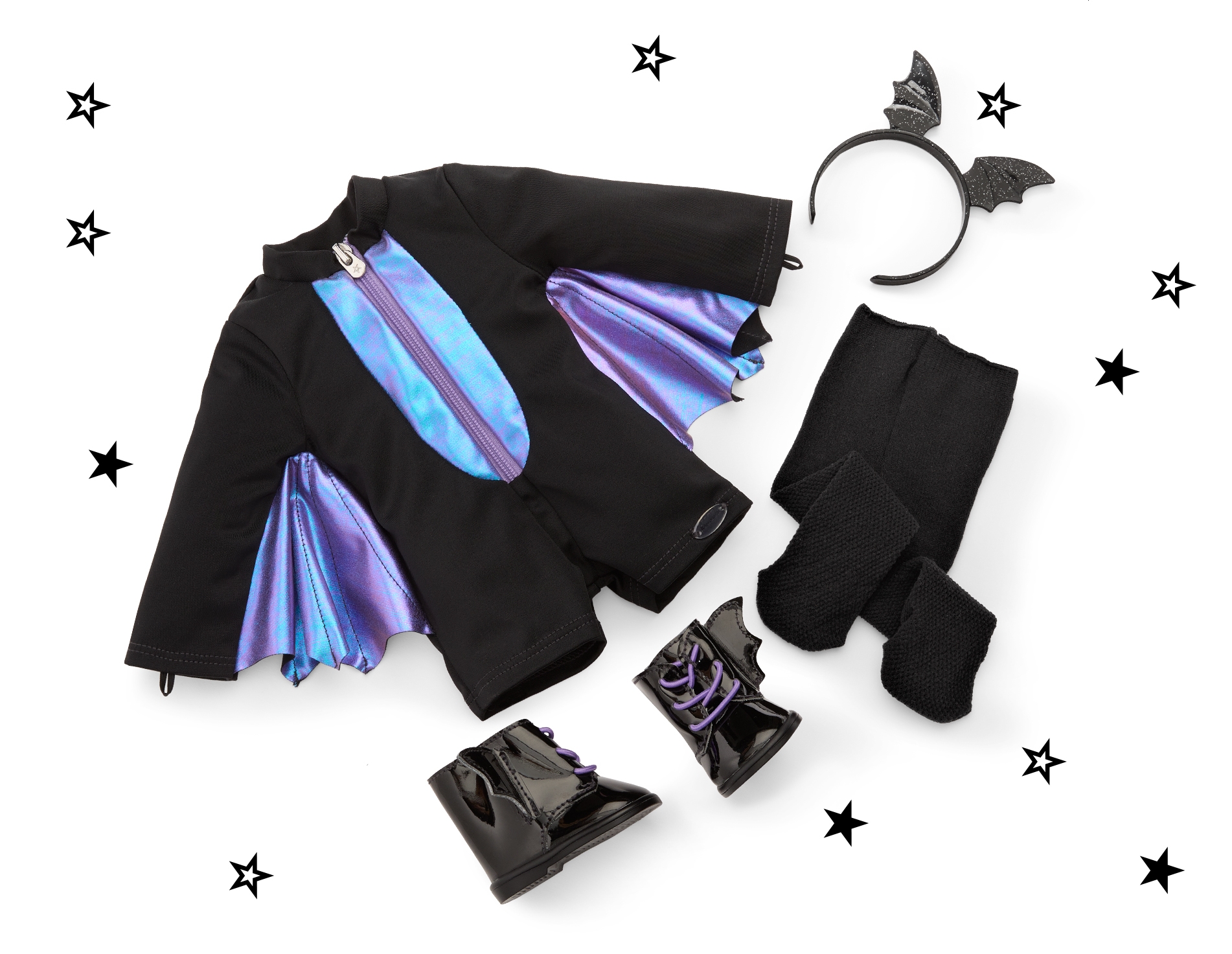 Midnight Bat Costume:
• Begin with a base layer: a long-sleeve T-shirt—purple or black—and black leggings.
• Add a cape to give the illusion of wings, shiny boots, and a headband adorned with felt bat ears or purple rhinestones.
• Dab on dark makeup or try nontoxic face paint to create a mask around her eyes.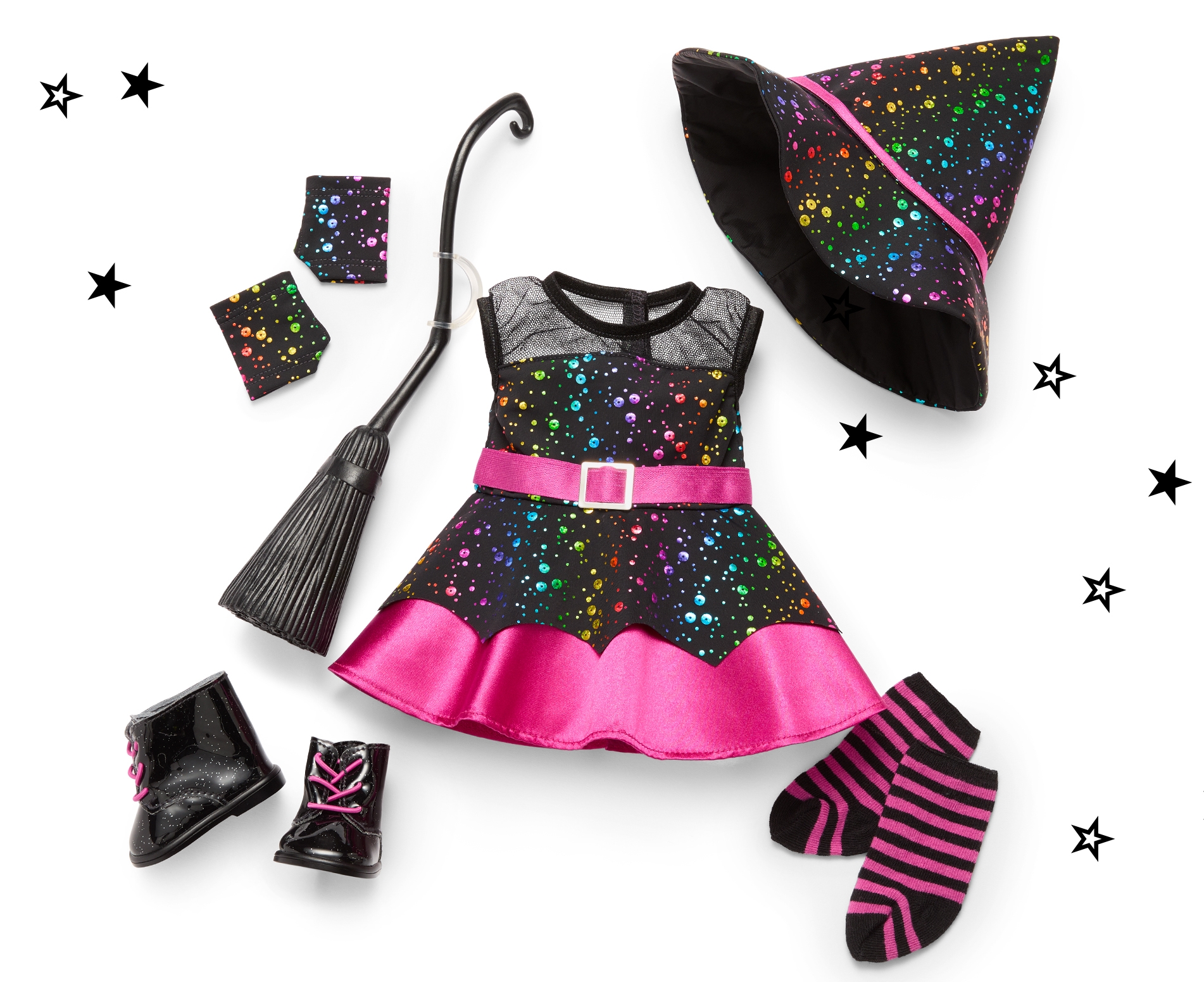 Chants & Charms Witch Costume:
• Pair a sparkly top with dark leggings, or a leotard with a maxi skirt. Choose colors that align with her doll's: bright pink, black, a sparkly rainbow effect.
• For that truly witchy vibe, find a pointy hat (you can even add a ribbon or sequins), or place clips in her hair adorned with plastic spiders—or other creepy-crawlies—attached with craft glue.
• Add boots, a broom or wand, and a dash of sparkly makeup.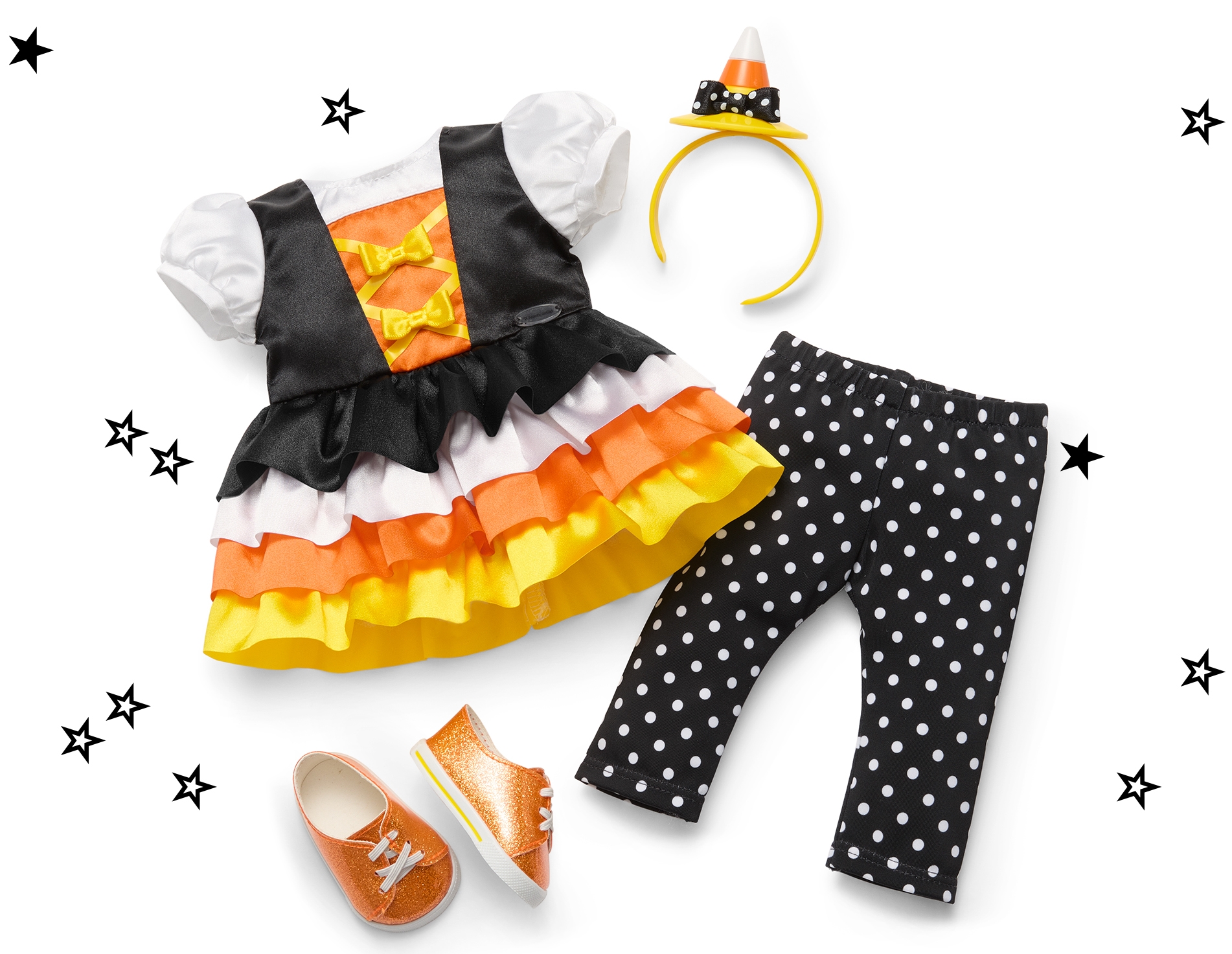 Trick-or-Treat Candy Costume:
• Start with a pair of polka-dot or dark leggings, and add an orange, yellow, or white top. Stripes, ribbons, ruffles—even a flowy tutu—would work well here.
• Pick fun sneakers or socks in a coordinating color.
• Top it off with a candy corn headband or orange-and-yellow hair ribbon, and some fun face paint.
No matter what activity you and your girl choose, take time to breathe deep and enjoy the moment. Snap photos of the process and finished products, and print them out to display next Halloween. As the years add up, so will the ghoulish, thrilling, and fun-filled memories.
©2023 American Girl. American Girl and associated trademarks are owned by American Girl, LLC.