Our Girl of the Year, Lila, is a confident athlete who has been in gymnastics for years. When she gets a last-minute chance to go to horseback riding camp, she's excited to try something new but worries she'll fall behind in gymnastics. Her worries fade when she meets Hollyhock, a young horse at the stable. Training Hollyhock helps Lila learn that friendship can take many forms and that trying two hobbies can help you be better at both.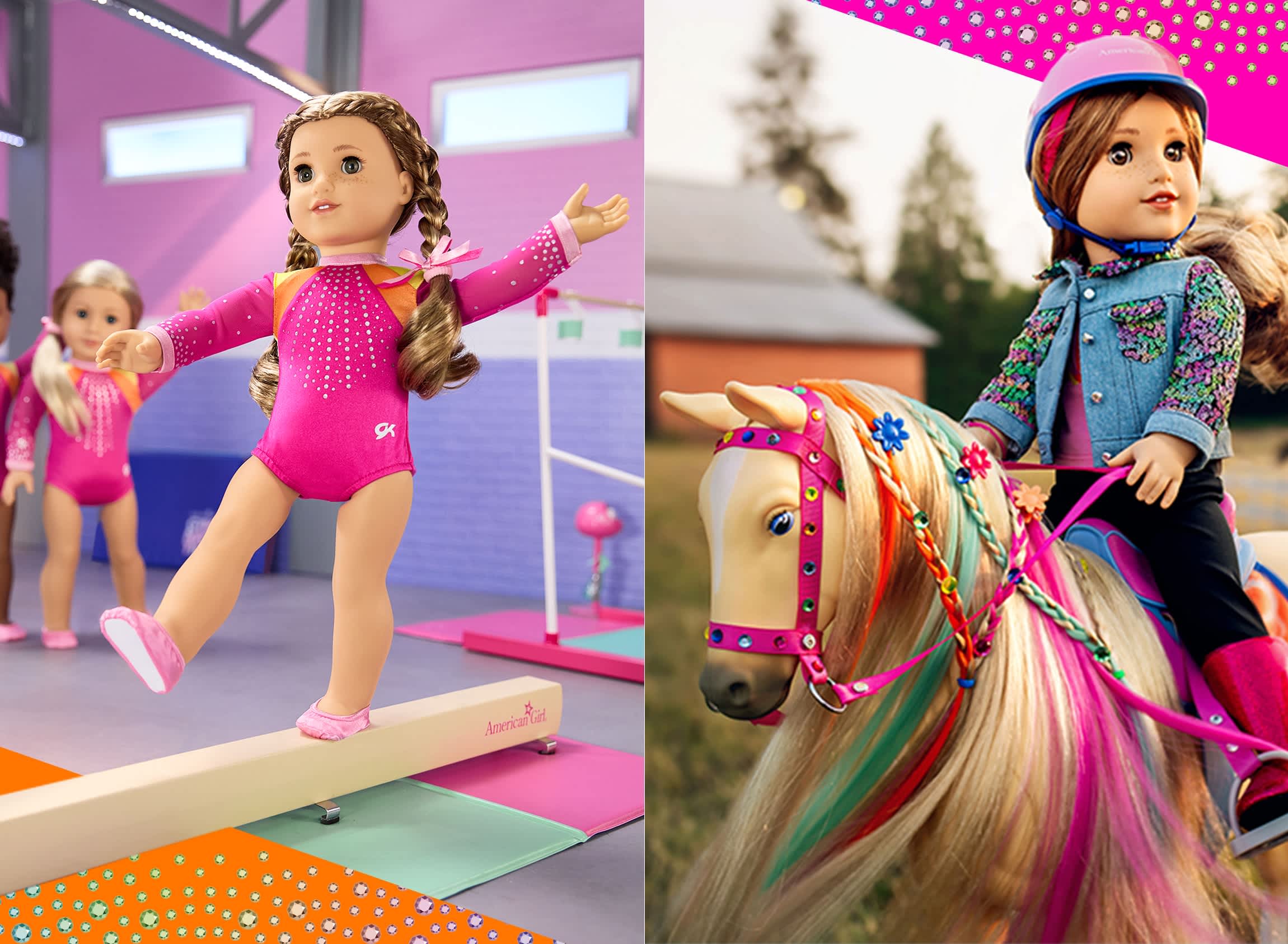 Lila is like many girls today, learning how to make time for friendships and new interests. Through her stories, Lila teaches girls these important lessons: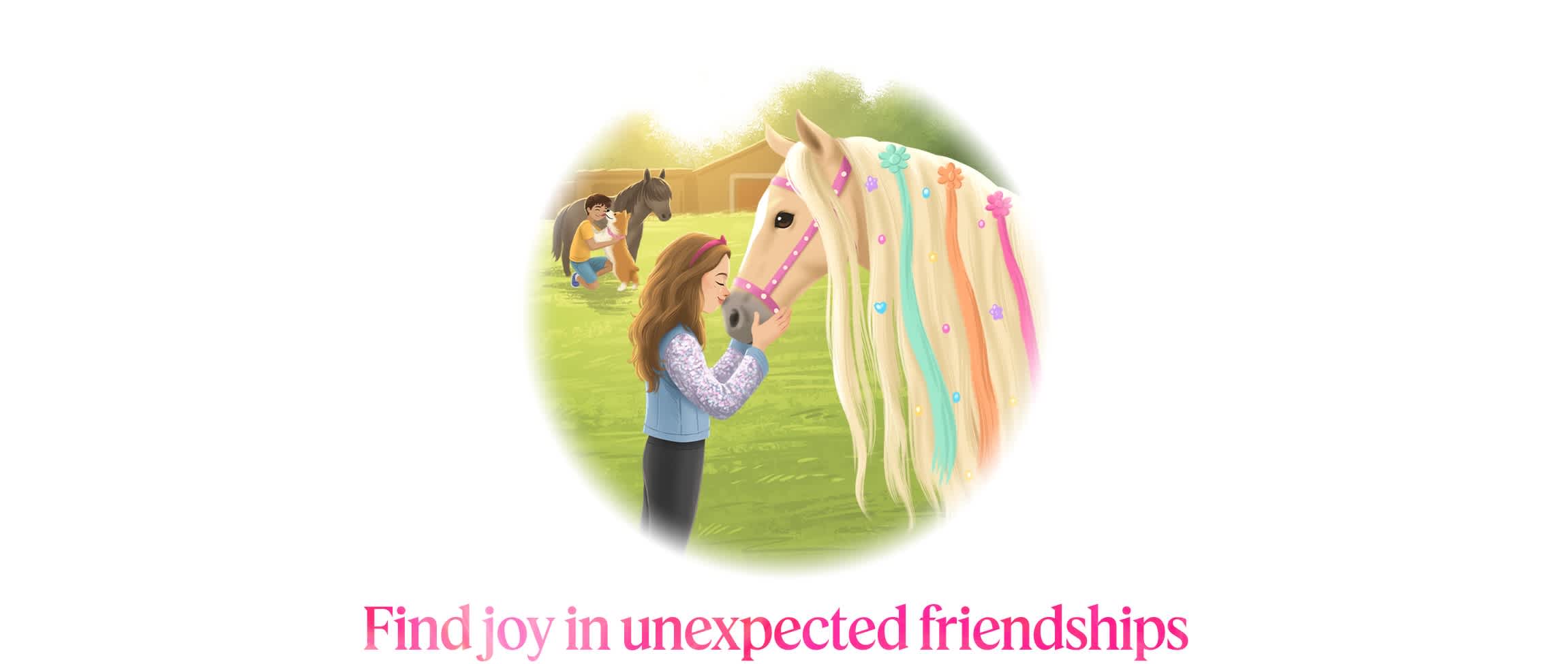 When Lila gets a last-minute chance to go to horse camp, she immediately falls in love with Hollyhock, a gold-colored palomino. Hollyhock is alone in a paddock because she's new and the other horses haven't accepted her yet, and Lila can relate. Just like me making new friends at gymnastics, Lila thinks. She decides that just as Coach McKenna believes in her and brings out her strengths, Lila wants to do the same for Hollyhock. By gently grooming her, riding her calmly, and helping Mr. Benson train her so she doesn't spook as easily, Lila helps Hollyhock shine brightest of all the horses at Honeycrisp Hill.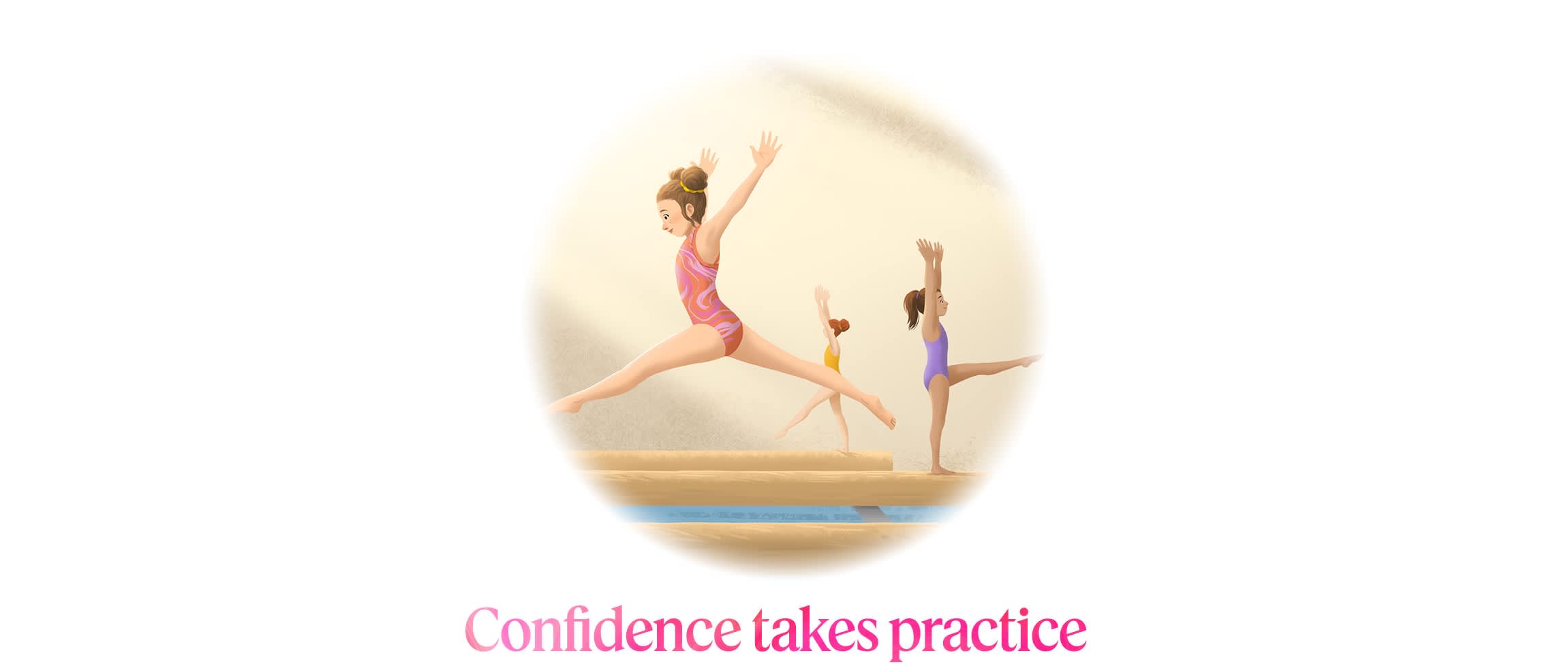 When Lila starts training for the Xcel Gold team, she's ready to do her best and make Coach McKenna proud. But for the first time ever, she's not 100 percent confident. The skills are advanced, and she'll have to make all-new friends at a brand-new gym. When McKenna shares that sometimes you have to go backward to go forward—returning to the last skill you felt confident doing—Lila realizes she's ready to answer McKenna's "Ready to work?" prompt with a resounding "Ready to fly!"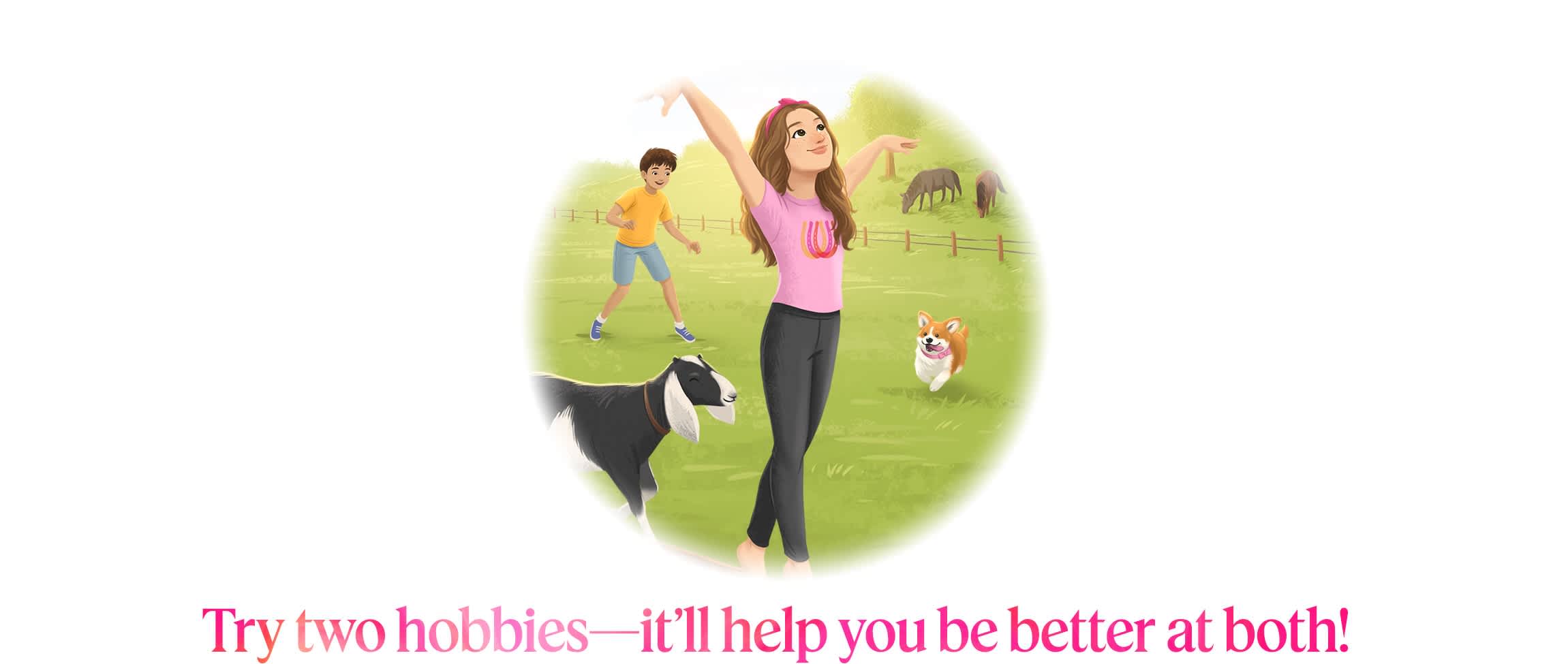 When Freya, one of the counselors at the horse camp, finds out that Lila and Emilia are gymnasts, she tells them that will make them good riders. Their strong legs and sense of balance help them with skills like trotting and steering. Soon after, as Lila works to master new gymnastics moves, she remembers something she learned at horse camp: steering a horse works best when visualizing where you want the horse to go. Turns out, it works when trying to land cartwheels on the balance beam, too!

Author Erin Falligant took horseback riding lessons when she was a girl, just like Lila. But while Lila dreams of becoming a competitive gymnast, Erin dreamed of becoming an author—long before she wrote her first book. She has now written more than forty books for children, including American Girl titles from the Girl of the Year 2020 Joss™ series and several Smart Girl's Guides.

Here's what she has to say about writing Lila's story:

Lila teaches girls the importance and power of goal setting. She sets a goal in gymnastics—to make the Xcel Gold team—and then gives her all to try to achieve that goal. But she learns to make time for friendships and other interests too, like horseback riding. Lila also faces a common crossroads for girls her age: a changing friendship with her best friend, Katie. Lila's story teaches girls that goals don't always have to be about sports, medals, and trophies. An equally important goal might be to allow a friendship to change and grow over time.

So much fun! Researching Lila's story meant sitting in on Xcel girls' gymnastics practices and meets. I was able to chalk up my hands and mount the bars, just as Lila does. I watched girls learning their routines for the first time and battling nerves at meets. I also visited a horse camp for kids, where I learned to ride and had to overcome a bit of fear, just like Lila does at one point in her story. I spent months immersing myself in Lila's world, which gave me an appreciation for both the joys and challenges she experiences. And the joys far outweighed the challenges!

Lila is an everyday girl. She's not a star athlete and didn't grow up riding horses. She comes to these sports like most girls do—she's curious about them, discovers she has a passion for them, and then works hard to develop skills and excel. Readers will see how very hard Lila works, and hopefully they'll realize that they, too, can pursue and excel in passions of their own.

I love the role that animals play in Lila's story—like Hollyhock, the gorgeous palomino that Lila falls in love with, and the goat and corgi that her little brother Jack bonds with at horse camp. Friendships come in all shapes, sizes, and breeds. Animal friendships like these sometimes support kids through rough times with human friendships. I have a kitty at home, just like Lila's friend Katie does, and she keeps me company while I write. As a lifelong animal lover, I had fun bringing Lila's four-legged friends to life!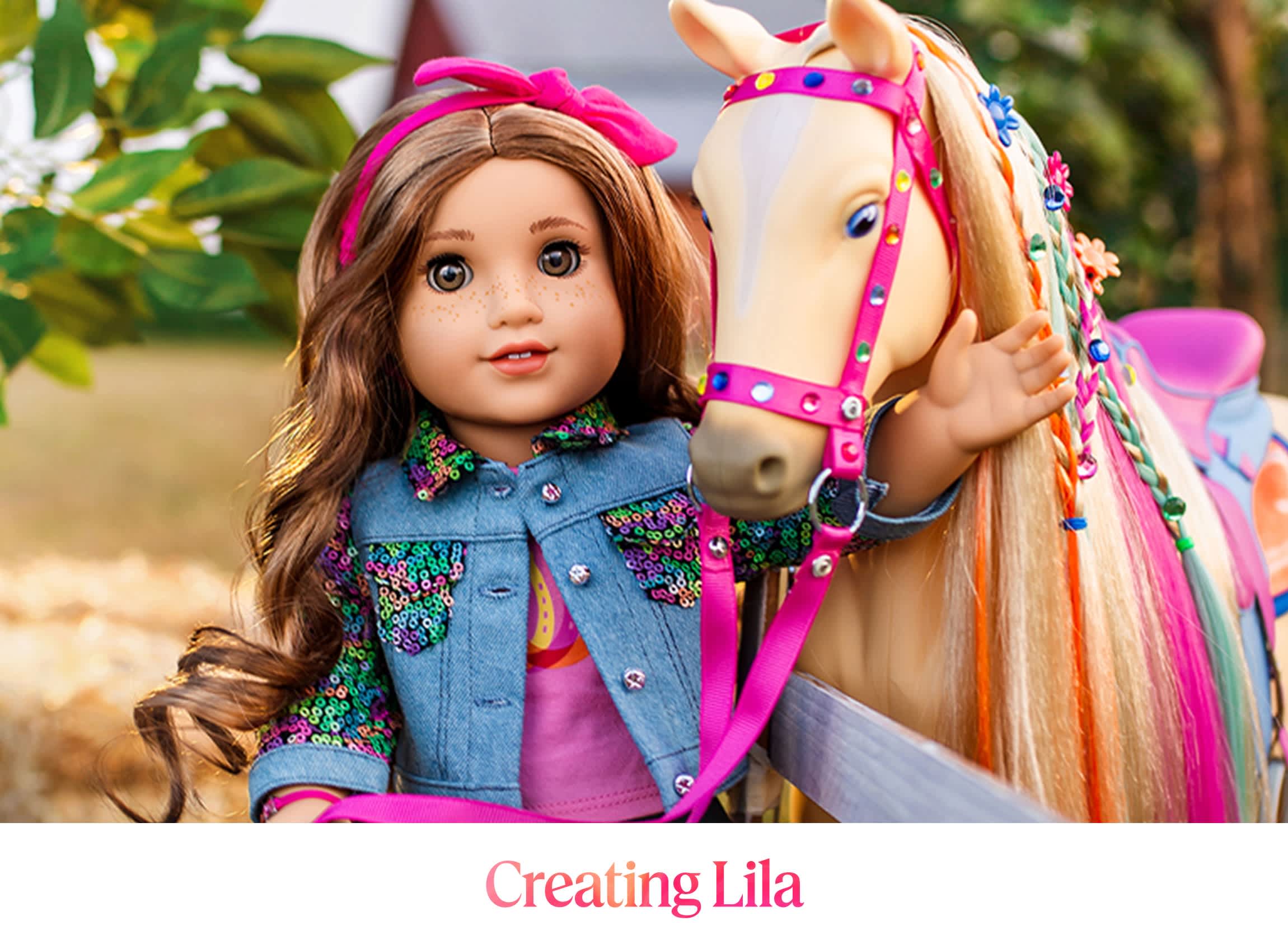 Lila was created with the help of expert advisors to ensure every detail in Lila's story was accurate:

Sarah Nelson is the business manager and head competitive gymnastics coach at Madtown Twisters Gymnastics in Madison, Wisconsin. She has coached gymnasts of all levels—from preschoolers to aspiring collegiate athletes. Sarah is also a nationally-ranked gymnastics official and judges competitions all over the United States.

Ted Marthe is the co-owner of Hoofbeat Ridge Camps in Mazomanie, Wisconsin. He is the former executive director of the Horsemanship Safety Association, an organization dedicated to certifying horseback riding instructors and helping camps run safe horsemanship programs.

Both Sarah and Ted hosted author Erin Falligant at their facilities on multiple occasions so she could immerse herself in the gymnastics and horse camp worlds while writing Lila's stories. Additionally, they each took part in manuscript reviews to ensure every detail was represented with accuracy and authenticity.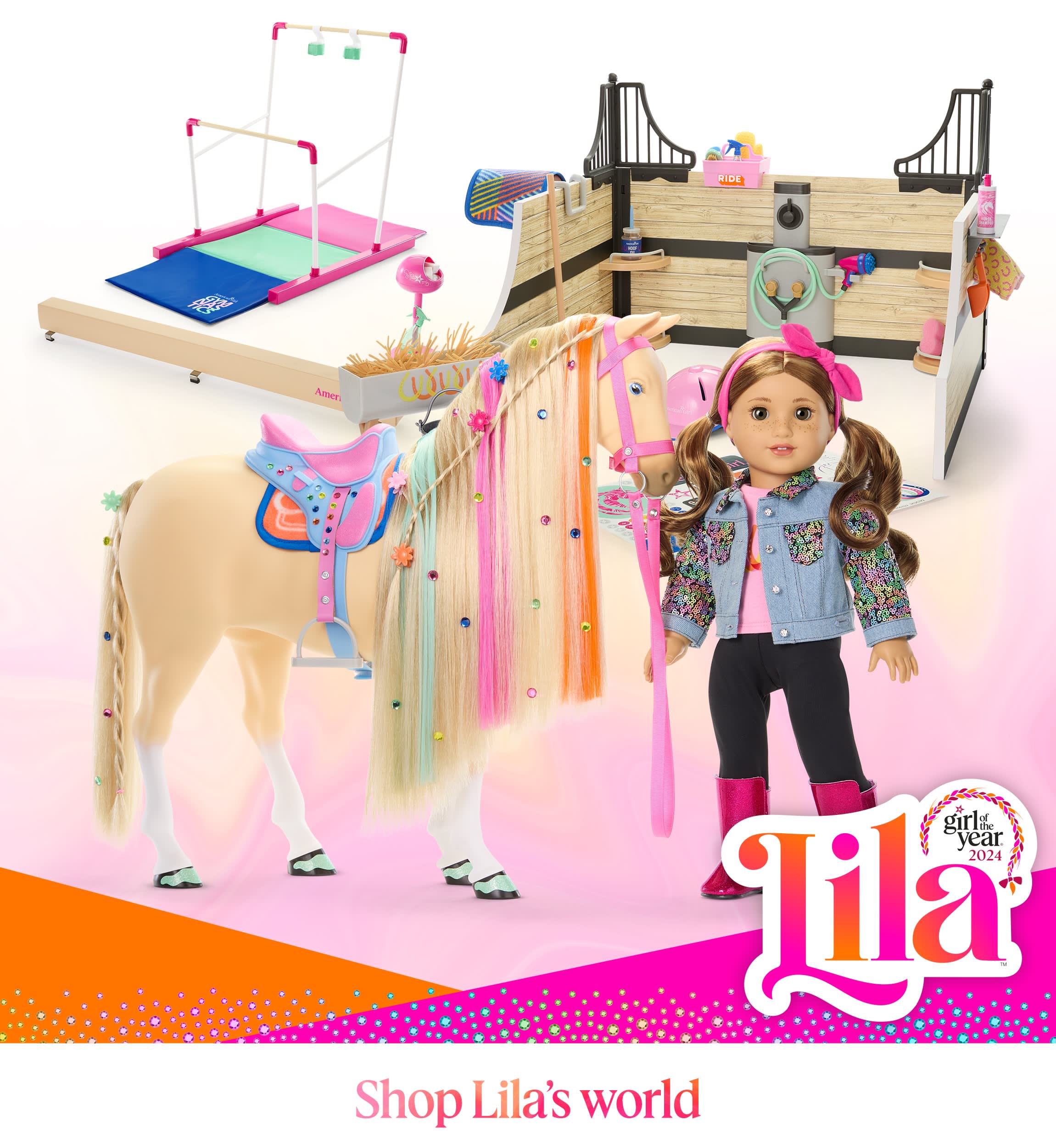 See everything in Lila's world, from horseback to high beam!
©2023 American Girl. American Girl and associated trademarks are owned by American Girl, LLC.