Whether she needs a quiet space to do her homework or a homeschool oasis, this fun, easy project can turn any space into a private and personalized study space. Gather your supplies and get crafting with your daughter to create a little nook to suit her study style.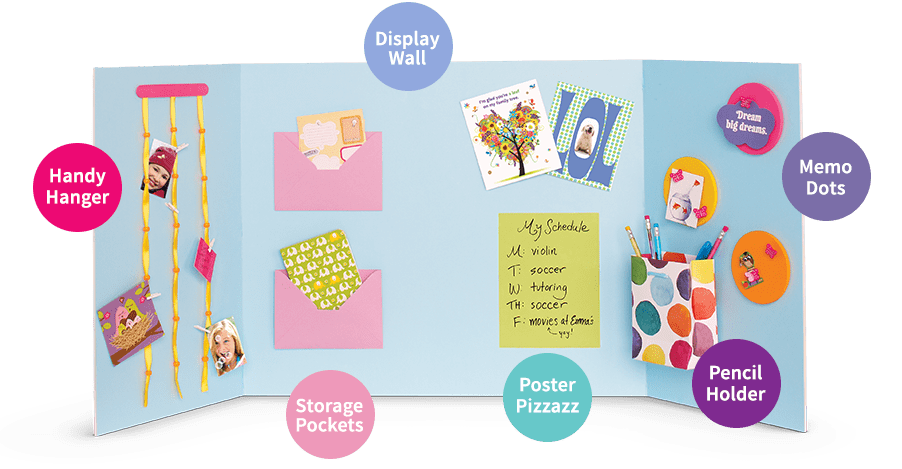 Start with a tri-fold display board. Cut a few inches off the top, as needed, so that it's the height you want. Use double-stick tape to cover the board with decorative paper.

Cut the flaps off colorful greeting-card envelopes, and attach them to the board with double-stick tape. Fill with flash cards, notecards, or papers.

Cut ribbon strips and attach them with adhesive dots or craft glue to the back of a painted craft stick. Then attach the stick (ribbon-side down) to the board with craft glue. Let dry. Use mini clothespins to clip notes and photos to the ribbons. For added color, string a few small beads along each ribbon.

Use cork coasters for mini memo boards. Glue 2 coasters together so that they're thick enough for pushpins. Let dry. Paint the coasters with 1–2 coats of acrylic paint. Let dry. Attach the coasters to the study board with craft glue.
Display mini inspirational posters, encouraging notes, little helpful reminders, or the week's schedule on the study board with adhesive dots.

Use a paper gift bag or mini cereal box as a pencil caddy. Decorate the bag or box with decorative paper or decorative tape. Attach it to the board with double-stick tape or craft glue, and fill it with pens and pencils.
©2023 American Girl. American Girl and associated trademarks are owned by American Girl, LLC.