When was the last time you decided to try something new? Starting a new job, switching sports, meeting new neighbors, or even traveling somewhere that serves different foods can feel…uncomfortable. But pushing past that first phase has proven to provide a lifetime of rewards. It's a theme that's central to the stories of Girl of the Year™ 2020 Joss Kendrick™ and it's sure to inspire both girls and grownups in a new way.
Young readers are brought into Joss's world as she and her surf sister, Sofia, are doing what they do nearly every day—hitting The Break and trying to catch air on their surfboards. Because she's grown up that way, Joss is athletic, independent, and confident on the waves. She loves to leave her hearing aid behind on her beach towel so she can tune out her trash-talking brother Dylan and focus on mastering her next big trick. So when he dares Joss to try out for cheerleading, she thinks, "How hard can it be?"
What she finds out at the cheer gym surprises her.
Instead of finding pom-poms and chants to cheer on the boys, Joss's jaw drops as she sees girls being thrown sky-high and doing daring flips and jumps. As her practices progress, she's forced to admit they're athletes, too. She begins to wonder, what if there's more than one way to fly?
Sounds like an ideal revelation, right? As parents, we want our girls to grow up with open minds and strong bodies. To be confident that when it comes to sports, they can do anything and be accepted into new teams. But we also wrestle with the right balance of challenging them without overextending them.
It's why we worked with author Erin Falligant to create Joss Kendrick's character in a way that would provide them with a role model; to be one more voice telling girls why it's important to try new things and that there is, indeed, more than one way to fly.
Learn more about the making of Girl of the Year Joss Kendrick in this video featuring author Erin Falligant and advisory board members Crystal DaSilva, Julie Petersen, and SaraJo Moen.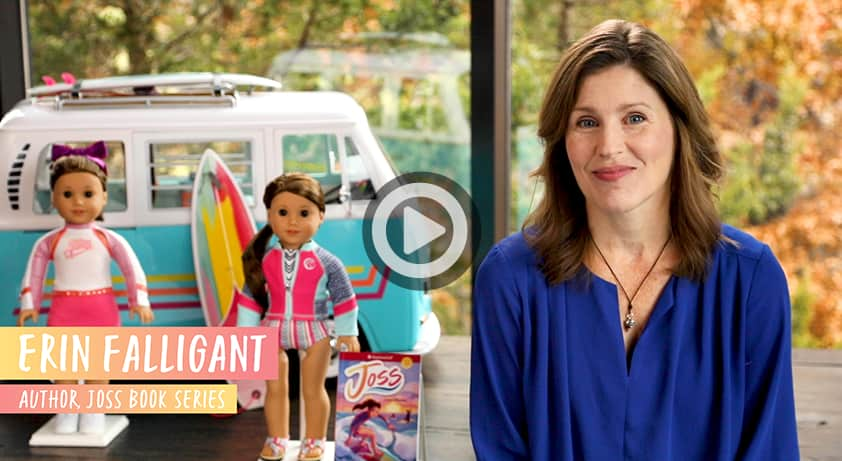 Joss challenges girls to:
Split up sports time
Athletic diversification—the idea of playing multiple sports even when a young athlete shows promise in one—continues to be a hot topic in the athletic arena. More than 40 professional sports organizations, including the US Olympic Committee and the NFL, have agreed that it leads to better performance, helps kids avoid burnout, lessens social isolation, and increases lifelong enjoyment.*
"In Joss's stories, she clearly identifies as a surfer and, at first, thinks cheerleading is silly. But as she spends more time at the cheer gym, she discovers she loves her time on the trampoline—and begins to see how catching air there will help her when she's on the waves, too."
Erin Falligant, author
Push past stereotypes
In our research, parents tell us that their girls benefit from realistic examples and interactions when learning about sensitive topics such as stereotypes, and how to overcome them.** Joss feels it when she's in the cheer gym and a teammate wrinkles her nose when Joss pulls a hair tie out of her pocket—along with a handful of sand. "But then again," she reflects, "didn't I do the same thing, mocking their big hair bows?"
"Joss's experience joining the cheer gym teaches her to seek to understand before making judgments. My hope is that when girls read Joss's stories, it'll get them to think about the choices they have in their own lives: Are there some stereotypes that I'm buying into, just because I don't know the culture of another team?"
Erin Falligant, author
Joss also demonstrates a positive approach to living your best life with a disability—and teaching others to celebrate it, too. "Joss was born with hearing loss, so wearing her hearing aid is just part of who she is," says Falligant. "So she comes prepared for the loud gym environment with ways for her new teammates and coaches to support her in learning the routines."
Dial in on dedication
Whatever new sport or hobby girls decide to try, dedication is a skill that will serve them well throughout their lives. "Joss is a fierce surfer who sets high goals for herself and never gives up," says Falligant. "There's a part in her stories where she thinks, 'When a perfect wave comes, you go for it. You have to be all in—one hundred percent.' What I love about this line is that she's thinking about surfing. But what she doesn't realize yet is that it's who she's becoming as person, a girl who is in 100% no matter what she's doing."
"When a perfect wave comes, you go for it. You have to be all in—one hundred percent."
Joss Kendrick, Girl of the Year 2020
*National Youth Leadership Network, 2006
**American Girl Consumer Insights, 2018
©2023 American Girl. American Girl and associated trademarks are owned by American Girl, LLC.