A birthstone is a special gem that represents the month you were born. Keep reading to discover if your girl's birthstone matches her personality. And if not, find which one fits her best!

January – Gorgeous Garnet
The deep red color of garnet often means you're determined and self-confident. In different lighting, certain garnets change color, representing being open to change. Garnet girls are hard workers—the kind of person who always has their planner nearby.
Famous garnets: Alicia Keys, Kate Middleton, Michelle Obama, Dolly Parton, Oprah Winfrey
American Girl garnets: Melody Ellison

February – Amazing Amethyst
A symbol of wisdom, girls born in the month of this brilliant purple gem make good decisions. Prized by royalty, the amethyst is known for its protective, healing qualities. Amethyst girls are creative, loyal friends who stand up for their beliefs.
Famous amethysts: Susan B. Anthony, Emily Blunt, Rosa Parks, Rihanna, Shakira, Elizabeth Taylor, Laura Ingalls Wilder
American Girl amethyst: Ivy Ling, Courtney Moore

March – Gleaming Aquamarine
Reflecting tropical waters, the beautiful blue-green aquamarine represents the flow of imagination. Charismatic aquamarine girls love helping and inspiring others and solve problems in their community.
Famous aquamarines: Lady Gaga, Ruth Bader Ginsburg, Mia Hamm, Danica Patrick, Sheryl Swoopes, Harriet Tubman, Carrie Underwood, Reese Witherspoon
American Girl aquamarines: Marie-Grace Gardner, Josefina Montoya

April – Dazzling Diamond
One of the hardest substances on Earth, the diamond is a timeless symbol of love. With their action-driven nature, diamond girls lift up the people around them and enjoy seeking out exciting new adventures.
Famous diamonds: Maya Angelou, Kelly Clarkson, Queen Elizabeth II, Jane Goodall, Shirley Temple, Emma Watson
American Girl diamonds: Molly McIntire, Felicity Merriman, Nanea Mitchell, Maritza Ochoa, Rebecca Rubin, Addy Walker

May – Enchanting Emerald
The brilliant green emerald represents both love and determination, inspiring girls to bring positivity into the world. Steadfast and loyal, emerald girls embrace their special talents and keep working for what they want.
Famous emeralds: Adele, Madeleine Albright, Catherine the Great, Katharine Hepburn, Florence Nightingale, Sally Ride, Queen Victoria
American Girl emeralds: Julie Albright, Isabel and Nicki Hoffman, Kit Kittredge, Maryellen Larkin, Samantha Parkington, Cécile Rey, Claudie Wells

June – Exquisite Alexandrite
One of the rarest gemstones in the world, the color-changing alexandrite reminds girls to celebrate their uniqueness. Energetic alexandrite girls can always make their friends laugh and are great at bouncing back from life's challenges.
Famous alexandrites: Benazir Bhutto, Anne Frank, Ariana Grande, Helen Keller, Nicole Kidman, Meryl Streep, Venus Williams
American Girl alexandrites: Kirsten Larson

July – Remarkable Ruby
The vibrant red ruby has a unique star-like pattern that reflects each girl's inner sparkle. Known for their kindness and creativity, ruby girls are loyal friends who approach life with enthusiasm and courage.
Famous rubies: Princess Diana, Amelia Earhart, Selena Gomez, Bindi Irwin, Frida Kahlo, Michelle Kwan, Jennifer Lopez, Malala Yousafzai
American Girl rubies: Evette Peeters

August – Phenomenal Peridot
With a bright, uplifting energy, green peridot girls have a positive outlook on life. These girls are supportive friends whose optimism inspires people around them.
Famous peridots: Lucille Ball, Julia Child, Viola Davis, Madonna, Melissa McCarthy, Martha Stewart
American Girl peridots: Ruthie Smithens, Makena Williams

September – Sparkling Sapphire
The stunning blue sapphire is treasured for its connection to the night sky. Smart, compassionate sapphire girls have a natural curiosity and a fierce determination to achieve their goals—but like to make a list first!
Famous sapphires: Beyoncé, Halsey, Jennifer Hudson, Pink, Amy Poehler, Lily Tomlin, Serena Williams
American Girl sapphires: Kira Bailey, Emily Bennett, Kavi Sharma, Corinne Tan

October – Twinkling Tourmaline
The unique tourmaline girls are artistic and creative. They like to keep the peace, collaborate, and make new friends.
Famous tourmalines: Julie Andrews, Sue Bird, Hillary Clinton, Kamala Harris, Katy Perry, Julia Roberts, Lindsey Vonn, Kate Winslet
American Girl tourmalines: Caroline Abbott, Nellie O'Malley

November – Shimmering Citrine
Initially shy, citrine girls are strong, trustworthy friends who radiate kindness and leave a positive lasting impact on people. Close friends would trust citrine girls with their secrets, knowing they are strong and courageous.
Famous citrines: Marie Curie, Sally Field, Scarlett Johansson, Madeleine L'Engle, Georgia O'Keeffe, Condoleezza Rice, Tina Turner
American Girl citrines: Elizabeth Cole

December – Blue Beauty Topaz
The brilliant topaz, prized for its remarkable clarity and range of hues, brings forward a sense of tranquility and peace. Topaz girls are cheerful, open-minded friends who are always looking ahead to the next adventure.
Famous topazes: Jane Austen, Emily Dickinson, Billie Eilish, Jane Fonda, Ada Lovelace, Mary Tyler Moore, Mary Queen of Scots, Taylor Swift, Meghan Trainor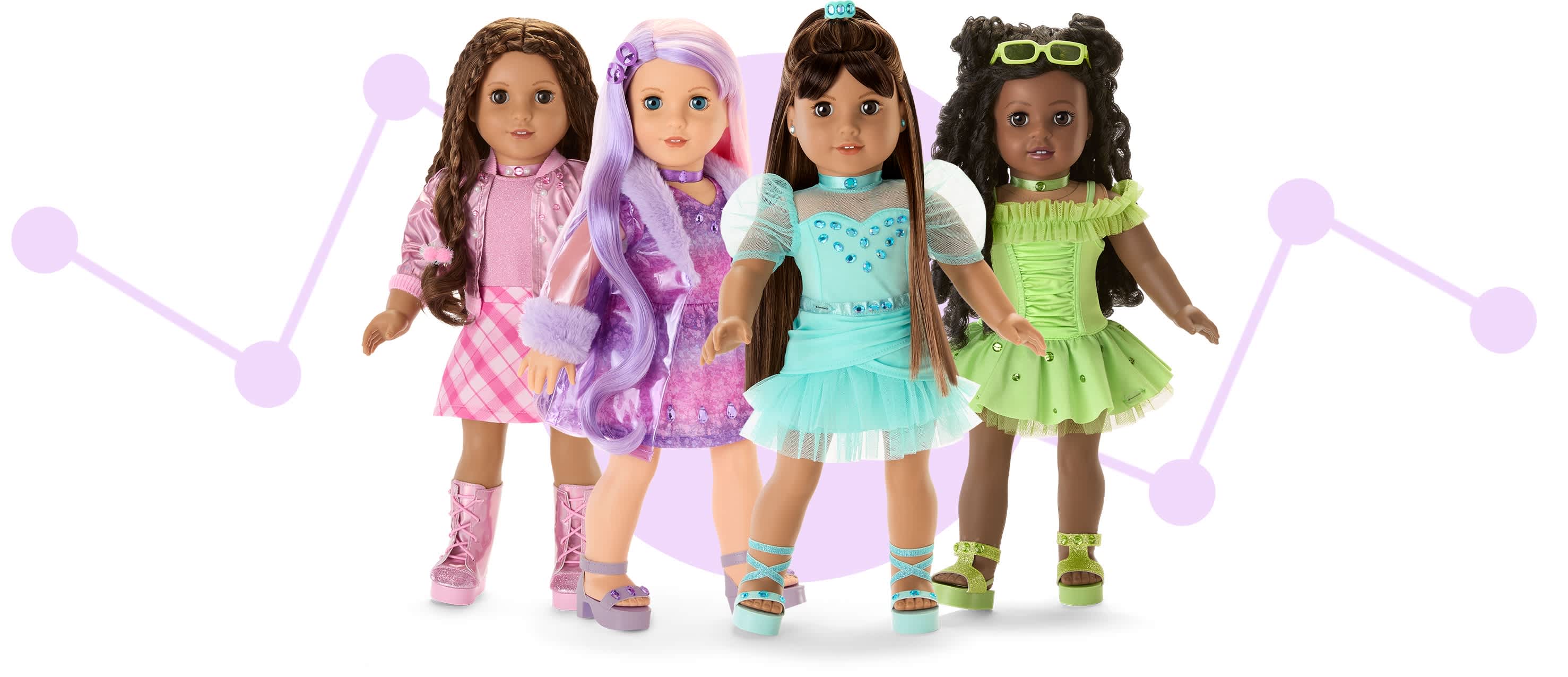 Now that you and your girl have learned more about birthstones and their distinct beauty and meaning, shop outfits inspired by each month.

And regardless of the day, month, or year...American Girl makes all birthdays memorable with special in-store and take-home party celebrations!
©2023 American Girl. American Girl and associated trademarks are owned by American Girl, LLC.